Support
We're here to support and enhance your learning experience. We study the science of learning and how you can discover your personal pathway to success. What you see in the wheel below includes a list of the areas involved in effective and efficient learning at the post-secondary level. Spend some time exploring the areas and while doing so, consider which components impact you as a student. Then check out the ways we can help you achieve academic success.
Our services
To learn about the supports and services we provide, visit the following pages: Watch or attend presentations, get course help from peers at the PAL Centre (for undergrads), access our mindfulness programs and resources, join our Learn2Thrive programs, or book an individual appointment.
We also have a separate page for athletes and graduate students.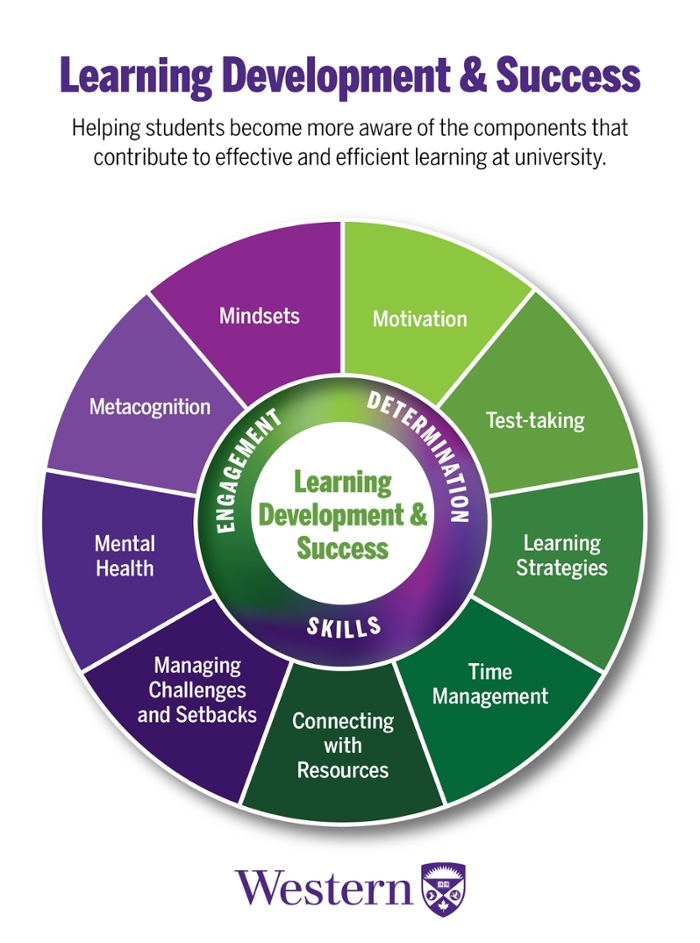 Learn more about each area:
Willingness to do things that are important for long-term goals, even if they do not feel desirable or intrinsically motivating.
Understanding test demands, creating a study plan for upcoming tests, improving comprehension & memory strategies, and standardized test research and strategies.
Developing strategies for effective learning in areas related to lectures and course readings, creating organized and effective independent learning habits, managing the demands of group work, and improving skills related to participating in seminars and giving presentations.
Constructing a schedule and routine that promotes sustainable learning throughout a semester, balancing academic and personal commitments through realistic and flexible prioritization, and remaining focussed on goals while managing interruptions.
Effective use of instructional materials provided in a course and awareness of support resources and willingness to use them. Examples of resources include professors, help centres, counsellors, and support networks such as family or friends.
Ways students think about or perceive themselves as learners and their learning environments, including beliefs, attitudes and dispositions. Examples of mindsets include fixed/growth, optimism/pessimism, receptive/resistant, perfectionist/minimal standards, confidence/fear.
Active awareness and understanding of how we learn, thinking about tasks, how to best approach them, evaluating and reflecting on the effectiveness of approaches, and making adjustments as needed.
Managing impacts of stress on academics, including effective coping with test anxiety, striving for balance between academics and non-academics, attention to self-care, focus on present tasks, working with personal strengths.
Confronting and taking responsibility for challenges such as disappointing grades, transitioning to new learning requirements or expectations, academic probation, and difficulties communicating with supervisors and professors.